Check out these courses:
PowerPoint 2016: PowerPoint Presentation Mastery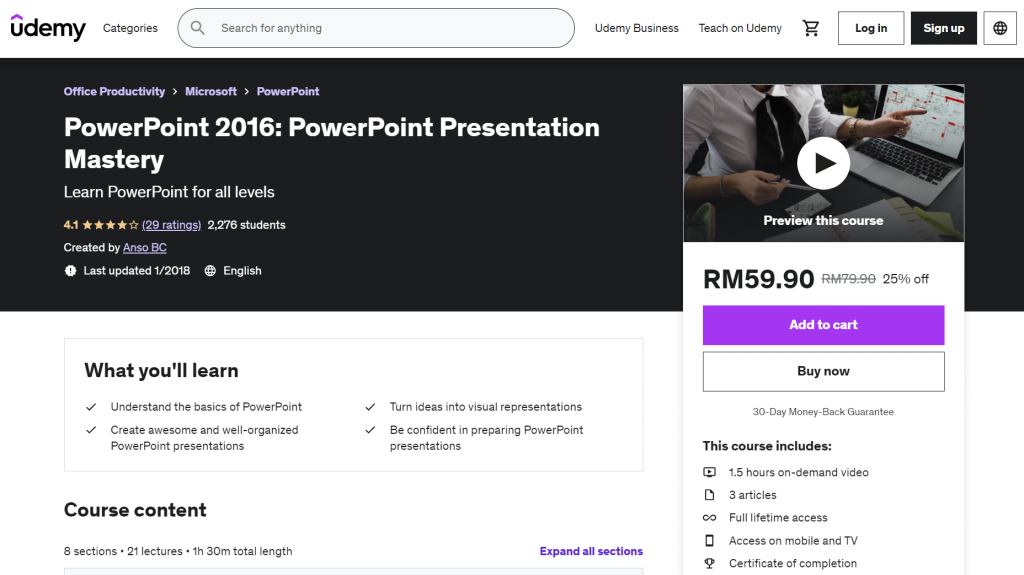 Description
Discover the power of PowerPoint through this course.
Whether you're an avid user or just starting out with PowerPoint, this course is designed for administrators, clerks, executives, managers, students of all levels; who wants to further enhance their practical use and knowledge of PowerPoint.
Welcome to PowerPoint 2016: PowerPoint Presentation Mastery!
PowerPoint is a presentation program developed by Microsoft. It is widely used in business presentations and academic presentations, even in classes such as this. This program helps users communicate their ideas in a visual and creative way. As there are other presentation programs available, PowerPoint is the most popular and powerful presentation program available.
Create Awesome and Eye-Catching presentations through PowerPoint?
We'll walk through the basics of PowerPoint at the beginning of the course. After that, we'll walk through the advanced level of PowerPoint. That way, the course is useful for users at any level.
Each lecture is filled to the best of my experience. As PowerPoint may be upgraded from time to time, the version I'm using is 2016. However, the layout of other versions may differ but it could be minimal.
At the end of this PowerPoint course, here's what you can expect:
A working knowledge of PowerPoint basic tools
Confidence to use PowerPoint
Ability to create presentations from scratch
Know-how of using PowerPoint drawing tools and table tools
Be the go-to person in your group for PowerPoint
There's always something new to discover
Complete the course and I'd appreciate if you could leave a positive feedback. If you have find this course useful, do recommend to your friends who will find this beneficial.
Thank you for taking this course and I'll see you inside the course!